The main complaint I keep hearing from people sewing face masks is that they can't find the supplies anywhere. It's a pain if you are willing and able to make masks but can't because you can't get to a store to buy the fabric and elastic! I've put together a list of items that are in stock and ready to ship. As always, things change quickly online so double check the delivery date before you purchase.
The Best Mask Patterns & Tutorials
Where to buy face mask making supplies
SEWING MACHINE – Need a new sewing machine? Your best bet is probably to see if a friend has one you could borrow. Nearly every one I found that's actually available online is way overpriced or is selling used. You don't want to buy a used machine online. You might try to call a local sewing machine store to see if they have any in stock.
ELASTIC – This is another product that is largely sold out. Thankfully there are still some good options. When shopping for elastic remember that you don't need a lot of elastic for each mask. Depending on if you do the kind that goes around the ears or the head you could use more or less. You'll want braided elastic that is ¼" thick or less. Or rolled elastic that is 2 or 3 mm thick.
Walmart –70 yards of ¼" elastic – This is sold by a 3rd party seller on the Walmart site. It does not say where it's shipping from or how long shipping will take.
ShopCraftables on ETSY – ¼" elastic – You can buy just 10 yards and they say it ships from the U.S. immediately. They have good reviews.
SedonaDesignz on ETSY – 2 mm rolled elastic – You can buy as little as 5 yards. The site says ships from the U.S. in 3-5 days. Reviews say shipping is very fast.
T-SHIRT YARN – I've seen a few mask makers use t-shirt yarn as ties. This is a really great idea. Just sew in place where you'd have the elastic but instead have a long piece you can tie behind the head. Comfortable!
The Fox Yarn Co on Amazon – 140 yards in many different color options at a GREAT price and Prime shipping! You can't beat this.
VondrakCraftStore on ETSY – 131 yards in many colors. Price does not include shipping but ships from the US quickly.
BIAS TAPE – If you don't want to wait for elastic there are other great options for ties. Many tutorials require bias tape. You can make it yourself out of your own fabric with a bias tape maker or just buy it already made. If you're buying it, look for double fold.
Amazon – 55 yards of double fold black, white or yellow bias tape on a roll. The site says it arrives in April, which is about as fast as shipping gets right now.
CustomThreads1 on ETSY – Buy just 1 yard of light blue. The site says it ships quickly from the U.S.
FABRIC – You can still buy some fabric online! Buy 100% cotton fabric for masks. If you're searching, try using the search words "quilting cotton". Make sure you're buying pieces large enough for masks. A lot of available fabric right now are cut into pieces too small for masks. Check ETSY, Fabric.com or Amazon. I've found some that I like that ship quickly below.
MaterialGirlChic on ETSY – 12 fat quarters of superhero fabric! These are so cute. Great for kids' masks. Ships quickly from the U.S.
FabricDivas on ETSY – Sold by the half yard at a good price. Lots of different colors. Ships quickly from the U.S.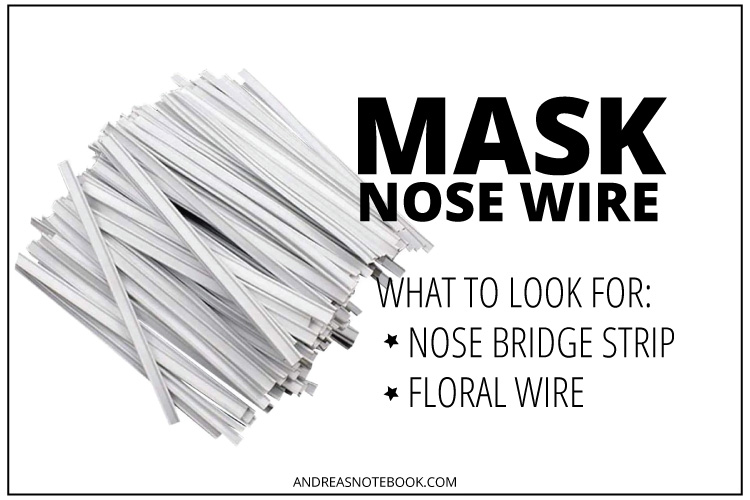 NOSE BRIDGE WIRE – This is an optional thing many people are adding to their masks. It help keep the mask in place and eliminate gapping around the nose. It should also help prevent your glasses from fogging up as much. There are many options for nose wire. You can buy the official nose wires that are used on commercial masks. Some people are using floral wire or pipe cleaners. Personally, I'd use the plastic covered nose wires you can buy. It's safer, won't poke you or rust. In a pinch the others should work fine.
Amazon – Get 100 for less than $10. If you don't need that many split the order with your friends or neighbors. Or donate them to someone who is making masks. The site says these should arrive next week.
If you're new to sewing you'll want to pick up the basics:
I hope this list helps you in your quest for mask making supplies! Let us know if you find a good source for one of these things!