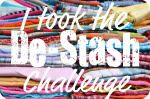 As a first step to my commitment for The GREAT De-Stash Challenge I've organized my stash. OH MY. Let's just see what I did, shall we?
First: removed fabric from shelves, counters, crevices, etc. REFOLDED FOR HOURS.
Second: organized by type/color/style/etc.
Take a peek...

But that's not all...

And a bit more up here...

And I wish I could say that was all. No pics but here's what else I have:
2 tubs of items to repurpose
2 tubs of baby flannel & minky
1 tub fleece
1 tub scraps and random fabrics
That's right. Too much fabric. Thus, the challenge. So, here is the count so you can keep me accountable! Let's watch it shrink, shall we? I'll be using my fabric journal to help!
How are you doing with the challenge?