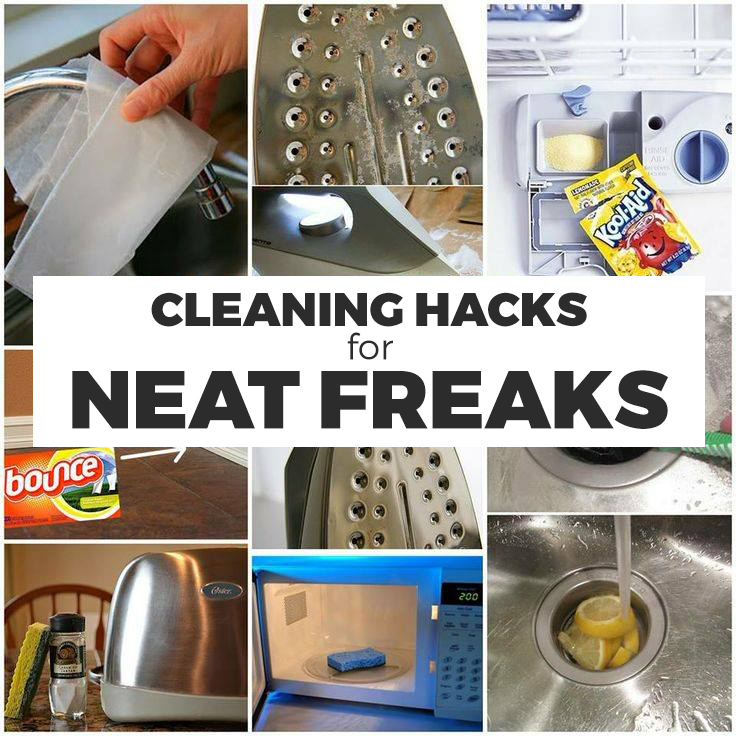 Ready to get things REALLY clean? You'll love these tricks for the neat freak!
---
1. Binder clip = sponge stand
Keeps it dry, instead of wet and gross. Via Real Simple
---
2. Microwave your sponge
Microwave on high for 2 minutes. Be careful, it will be hot! This kills most of the germs and bacteria growing on it.
---
3. Clean your washing machine
Wash your clothes in a machine that isn't dirty. Seems intuitive but have you washed yours?? Via Somewhat Simple.
---
4. Clean your toaster
Cleaning a toaster is easy. Don't throw them out just because they're cheap! Clean them. Via A Real Housewife.
---
5. Clean your sink's drain
The little rubber part on the sink gets absolutely disgusting. So you can just imagine what's below. Shudder. It's time to clean it. Instructions via Apartment Therapy.
---
6. Dust then vacuum
Intuitive? Probably. Via The Homemaking Arts.

---
7. Use a microfiber cloth to clean off lightbulbs
Tip via Martha Stewart.

---
8. Rub wax paper on your faucets to prevent water spots
After cleaning, give your faucet a once over with wax paper to prevent future water spots. Via Creekline House.
---
9. Clean your toilet in 3 minutes
Get a REALLY clean toilet by doing it the right way! This is a good one to show the kids.
[iframe width="725" height="408" src="https://www.youtube.com/embed/VfDoGQ6urE0?rel=0" frameborder="0" allowfullscreen]
---
10. Get rid of household odors with vanilla
Tip via Life Hacker
---
11. Use salt to clean
Whether you're cleaning cast iron, a wine stain or your sink, you'll want to see how salt can help you! Watch this video.
[iframe width="560" height="315" src="https://www.youtube.com/embed/q3QIBzo-SkM?rel=0" frameborder="0" allowfullscreen]
---
12. Use a sock to clean your blinds
Skip the feather duster that just spreads dust around! Tip via Keep Home Simple.
---
13. Use lemon Kool-Aid to clean your dishwasher
Real Simple has a great video showing us how to use lemon Kool-Aid to clean lime stains out of your dishwasher.
More great cleaning posts!