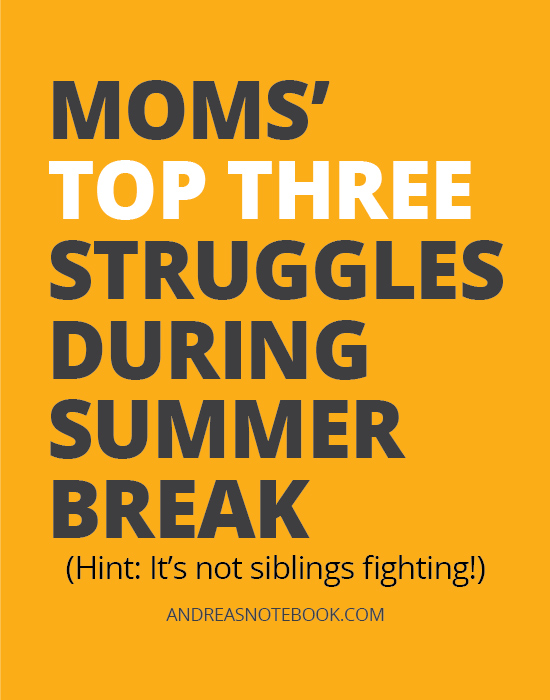 A month ago I surveyed 535 moms of 6-12 year olds to ask them about the hardest part of summer break. I wanted to know what is tough. Where do we struggle? What makes life difficult when the kids aren't in school?
I know most mothers and fathers get really excited about having more time with the kids during the summer. The thought of days at the pool or lazy backyard picnics gets exciting. I can't speak for everyone but I know I'm excited for less structure to our days. But, not everything is all roses all the time. And, in a quest to make this site useful to women everywhere, I wanted to know first what the struggle is. And it became pretty clear.
Number 1: 62% of all the moms who responded said that they struggle to keep their kids off devices during the summer. I know you can relate to that. More free time, less responsibilities and they just want to play, "one more game."
Number 2: 59% of the moms who responded said they struggle with keeping the kids entertained. That really goes hand in hand with number one, doesn't it! If you've ever heard a kid say, "I'm bored," then you can relate to this one. Some kids will get up in the morning and spend an entire day entertaining themselves. Others, not so much. And it seems that 59% of you can relate to that struggle.
Number 3: 54% of moms struggle to keep the house clean while kids are out of school. I'm going to just say it. Who are these other 46%?? And can their kids teach my kids how to be tidy?
So once I discovered what so many of you struggle with, I set off to create a solution. I put my head together with 9 of my favorite bloggers and we came up with something that can help keep your kids entertained and off devices.
We created 10 boredom buster projects that are going to excite your kids and give them something fun to do this summer! I'm really excited that we were able to bundle these all together for you. You can now download all 10 projects (plus 3 bonus printables!) all in one place! No more searching for hours on Pinterest for things to entertain the kids.
We put weeks of our time and creativity into bringing you a quality product I know your kids will love. And because we know time is money, we think this is a huge bargain! You can download and print these today!
Come see what we've included in the Boredom Busters Kit!