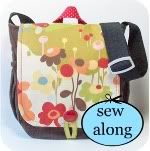 Let the fun begin! Are you ready to sew a Messenger bag?? Nervous about sewing something complicated like a bag? New to sewing? Just want to have fun with us? Join along! This week we'll talk about selecting fabrics and gathering your supplies.
Buy your pattern from Keyka Lou here
When you purchase the pattern you will be given the pattern to download to your computer. The pattern and instructions are very detailed. I know you will be pleased with the quality (I know I am). There is a list of supplies included in the pattern.
13"(w) x 11"(h) cotton fabric for the flap
13"(w) x 11"(h) interfacing
3⁄4 yard body fabric – duck, twill, canvas or other light/medium weight utility fabric
3⁄4 yard lining fabric – cotton
3⁄4 yard cotton batting
2 yards of 1.5" wide medium/heavy duty poly webbing 1.5" slide
1.5" rectangle ring
Button
7" piece of cord elastic
7.5" of 3⁄8" wide elastic
Small safety pin
1.25" piece of VELCRO
Fabric marking pen or chalk
Ruler
Choosing outer fabric
The type of fabric you use will make a big difference in how sturdy or stiff the completed bag is. The pattern recommends a sturdy fabric like canvas or denim. If you want to use a thinner fabric just iron a medium weight fusible interfacing to the wrong side of your outer fabric and you'll have a sturdy bag. I'll be using corduroy. I'm choosing not to use interfacing because I don't mind if the bag isn't very sturdy.
The pattern picture uses a different fabric for the flap but feel free to use the same fabric on the whole outer layer and flap if you want.
A pair of large mens or women's pants could be repurposed for the outer fabric as well. Don't forget to look and see what you already have around the house!
Choosing an inner fabric
Quilting weight cotton is appropriate here. Patterns, solids, whatever strikes your fancy.
The strap
The pattern tells you to use 1.5" poly webbing for the strap. My local big chain fabric store didn't carry anything in that width. It also didn't carry 1.5" wide rectangular rings and sliders. You may be able to find these things online if you can't find them in your local store. OR, do like I'll be doing and make your own strap to fit the size of rectangular ring and slide I found (1.75").
To make your own strap you'll need 2 strips of fabric 36"x4" (or double the width of your ring plus .5"), 2 strips of medium weight fusible interfacing the same size as the fabric strips.
What is cotton batting?
Cotton batting is also known as wadding. It is the padded layer used in quilts. If you don't want it, you can omit it. Though I think it will add good dimension and padding to the completed bag.
Your supplies will look like this:

(reclangular ring, rectangular slider, button, webbing, round cord elastic, fabric marker or chalk, velcro, safety pin, elastic)
Joining along? Let me know by leaving a comment or linking up to this post. You can grab a button to display on your blog if you'd like (not required). Who will you be sewing this messenger bag for? Do you have your fabric picked out?