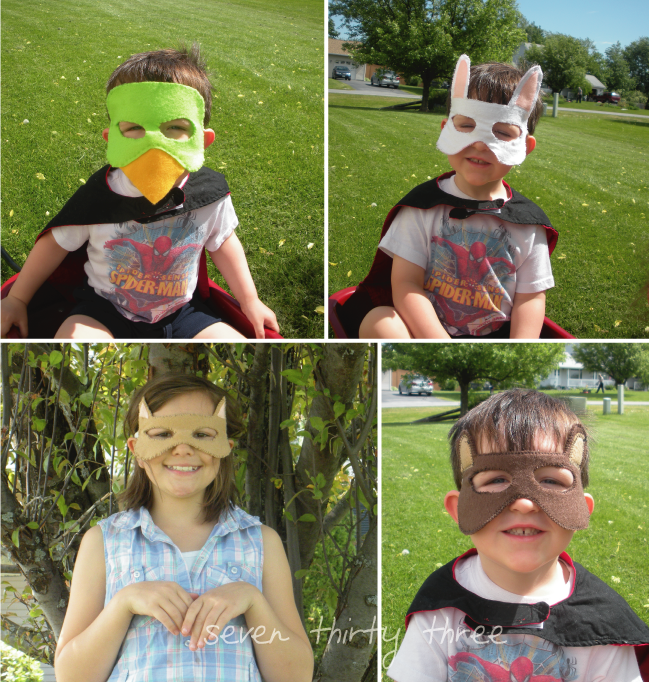 My name is Kim and I blog over at seven thirty three - - - a creative blog.
Today I am going to share with you how to make woodland creature masks!
Last year I hosted a camping themed baby shower for my SIL and what camping trip isn't complete without an animal or two? The little kids at the party filled these out perfectly!
This tutorial is showing you how to make a Bear Mask, but see the other pictures above for other creatures! All were created with the same template with tweaks here and there.
Supplies:
2 sheets of felt
elastic
wonder under or similar fusible web (optional)
Instructions:

First you will want to make a template on paper. I just freehanded one, cut it out and measured it against my sons face to make sure it fit.
I also marked the eyes at the same time and cut those out.
Next you will want to iron your fusible web onto one of the pieces of felt (the interfacing will create a sturdier mask, but I only used it on two of my masks and didn't have a problem with the others) Trace your mask template onto the paper of the fusible web, remove the paper backing and cut it out. Now trace your mask again and cut out the second piece. Iron the two pieces together. On the back of the mask (the part that will touch your childs face, trace the eyes - I did this BEFORE I ironed the pieces together and ended up having the marks transfer to my ironing board cover - OOPS!).
Cut out the inner ear pieces. Sew them onto the mask with a zigzag stitch (you can do this BEFORE you iron the two pieces together if you don't want to see the stitch on the back of the mask).
Zigzap stitch the entire edge of your mask. Cut out the eyes and zigzag stitch around them. Measure the elastic against your childs head and sew it onto your mask (make sure it is nice and secure), and now you are done!
FYI: I also attemped to add the elastic before sewing the edges, which is doable, but I didn't mind seeing the elastic on the back of the mask since it doesn't show when the child is wearing it.
I managed to break my bobbin holder half way through the masks so switched to handsewing... although it took longer it was still just as easy - so no machine required!
For the duck and blue bird masks, I cut out a triangle for the beak and inserted it between the two pieces of the mask at the nose curve and just sewed around the edge of the mask as normal.
(Yes, that is me in the top right picture... Although I'm having second thoughts now that I see it up here!)
Check out the other Handmade Dress Up tutorials!