Host a Graham Cracker Village Constest! Whether you are looking for a fun party or a get-together with extended family... or even just a new tradition you can do with your growing family, this will spark creativity and leave everyone in excitement and wonder!
To get started you'll want to decide how big you want your village to be. This will depend on how many people you have participating and of course, how old they all are. You might want to pair young children with an older child or adult since the village is pretty detail oriented.
Once you've decided how big, make sure you have enough platforms for everyone. We used an old Amazon cardboard box cut into 6 10x10 squares for our little family of four. You could make them bigger as well to make room for even more landscaping.
Now, you need to divvy up all the assignments. You don't want a village with 3 libraries and a shopping center! You need some variety. You can use these cute printables for ideas, or make up your own assignments. Choose which ones you want to do and let everyone decide what they're going to do. You could even make it a blind draw if you want!
Gather candy, cereal, snacks and whatever else you want to use to decorate. Plus, graham crackers and icing glue.
Start building! Then decorate it up like crazy. Add all kinds of details to your village. Animals, cars, driveways, landscaping. The sky is the limit!
Once everyone is done building on their platforms, put your village together and inspect. It will look good! I promise!! Admire all that creativity and hard work!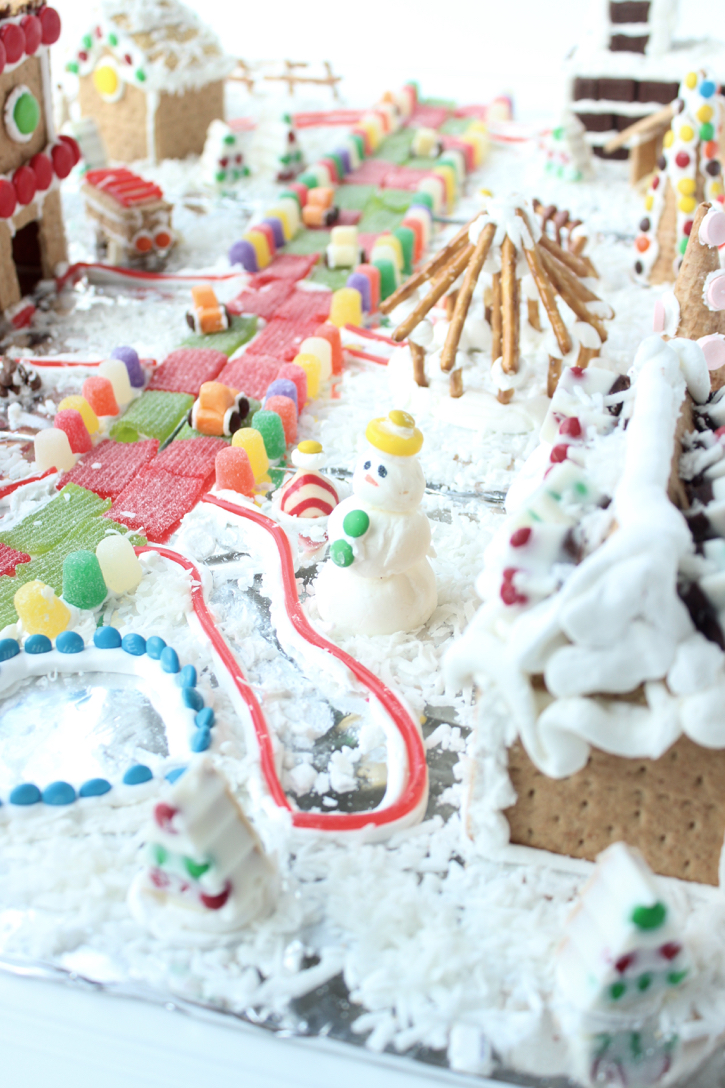 Now it's time to judge. Remember? It's a contest! Have everyone pick their favorites--but you can't pick your own. Although, you will probably have an attachment to yours after all the time you put into it!
Tally up everyone's favorites and give out the awards! I decided to award everyone with a big ol' Symphony bar. Because you can always use more chocolate in your life.
Doesn't this sound like such a fun tradition!? We love it! This year our village was not as detailed as we've had in the past. But it was still so much fun.
Once you are all done, leave it on display as a part of your Christmas decor so that everyone can admire it! We even let our kids play with it. My son could not get enough of the fire truck and fire station.
And my daughter loved driving all the cars on the ice skating rink. But really she just couldn't get enough! Oh their imaginative play was so funny. Here comes Santa! Ho ho ho... Oh no he crashed! I hope he's okay. What fun!