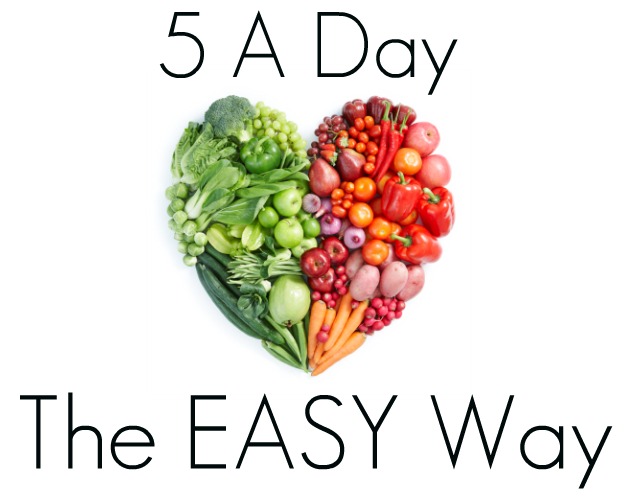 If you are like me, you care about what your kids put in their bodies. And, if you're like me, you sometimes fail to give them all the fruits and veggies they should be eating. Life happens. Empty fridges happen. Picky eaters happen. Fortunately for you, we figured out the easy way to get kids to eat 5 a day (or more!).
At some point we noticed our oldest daughter had become a much pickier eater. Always asking for sweets over healthier options. We decided to do a bit of healthy eating education.
First we taught them about serving size.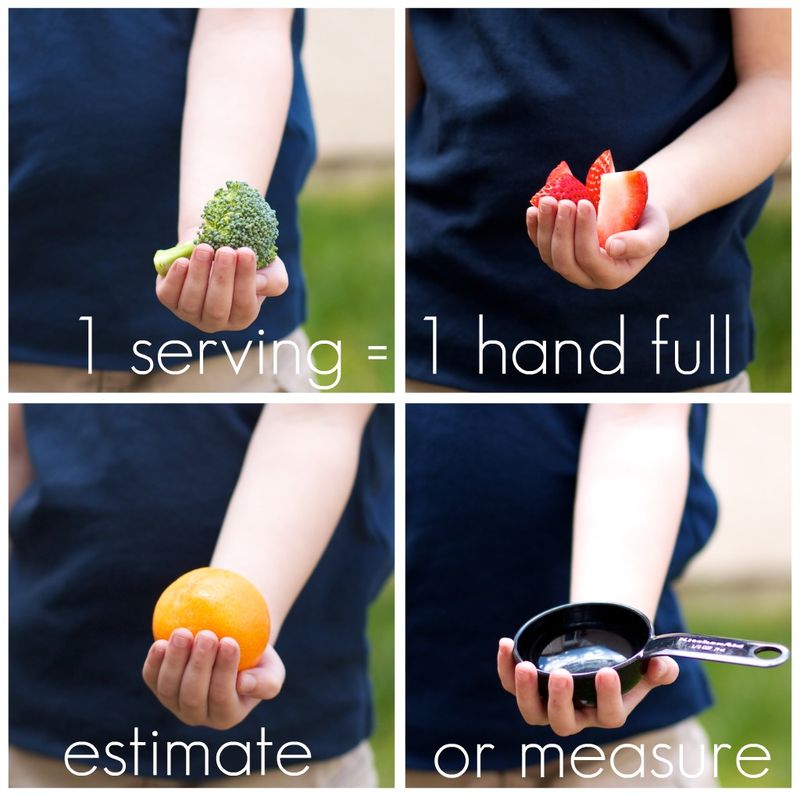 Then we created the 5 Or More A Day chart we use in our house.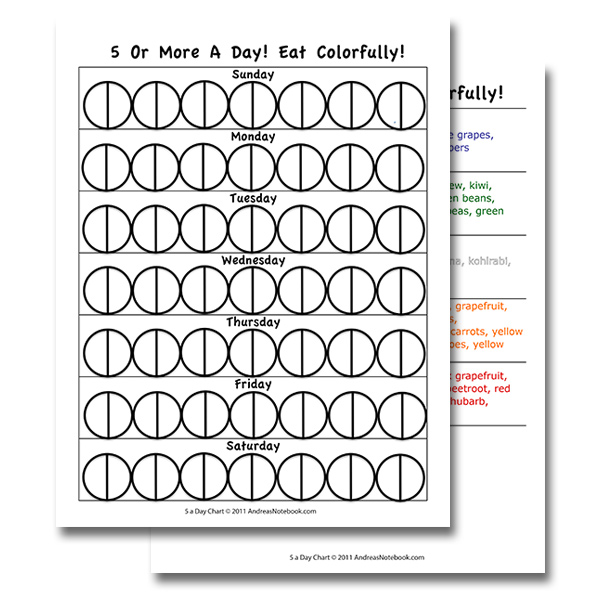 Each circle represents a full serving of a fruit or vegetable. The center line allows for half servings. Sometimes our little eaters have half a serving of a fruit so they get to color in half.
Color them in? What colors you might ask? Purple/Blue: blackberries, blueberries, plums, purple grapes, purple asparagus, purple endive, purple peppers, purple carrots, eggplant Green: avocados, green apples, green grapes, honeydew, kiwi, limes, pears, artichokes, broccoli, brussels sprouts, green beans, cabbage, celery, cucumbers, leafy greens, leeks, okra, peas, green peppers, snap peas, spinach, zucchini White: bananas, cauliflower, jicama, kohlrabi, mushrooms, onions, white potatoes, turnips, white carrots Yellow/Orange: yellow apples, apricots, cantaloupe, grapefruit, lemons, mangoes, nectarines, oranges, papaya, peaches, persimmons, pineapples, tangerines, butternut squash, carrots, yellow peppers, pumpkins, rutabagas, sweet corn, sweet potatoes, yellow squash Red: red apples, cherries, cranberries, red grapes, pink grapefruit, pomegranates, raspberries, strawberries, watermelon, beets, red peppers, radishes, radicchio, red onions, red potatoes, rhubarb, tomatoes
Implementing the chart
Stop fighting. Make sure you are offering the healthy foods, set your expectations, then leave it up to them to eat enough to fill in a circle. We are consistent about serving sizes and we don't bargain. Or beg. Offer an incentive. If you are fortunate, the idea of filling up a chart is enough motivation for your child. Chances are, you might have to provide more incentive. We link dessert to the chart. Perhaps you could implement a "5 a day all week and you get dessert on the weekend" policy. Maybe your kids need more frequent reinforcement? Perhaps a few m&ms or a sticker after dinner if they eat 5 a day without complaining? It's up to you. Obviously the goal is to create habits that don't require incentives but that takes time if your kids aren't used to eating a lot of veggies and fruit. Make decisions about the questionables. We don't count juice (except fresh squeezed) or overly processed veggies/fruits as a serving. That's up to you but make your decisions early. Get organized. Feeding your kids at least 5 full servings of fruit and veggies every day takes planning. Once your kids get excited about this chart (and they probably will) they won't let you slack! Don't even think about not offering them enough. My kids are on my case if they don't have enough for the day. Make sure there are fresh, clean, cut fruits and veggies ready for them to snack on throughout the day. Spend 5 minutes at night preparing for the next day. It makes a difference. Emphasize COLOR. Eating lots of strawberries is wonderful but we want kids that eat a wide variety of colorful veggies. The more colors they eat the wider variety of nutrients. Added bonus? Their chart is prettier. Be realistic. If you have a kid who refuses any and all healthy food right now you could consider starting small. You know your kid best. Though I've found that kids are able to rise to the occasion. If you tell them what you expect from the outset, and if they want that reward enough they'll get on board. Have fun. I've never seen my kids so excited about getting healthy. Talk it up, get excited with them. If you act like it is a dreadful chore they will too. Find fun ways to serve veggies. Try kale chips, green smoothies, frozen peas or rainbow kabobs.
Want to start creating healthy habits in your home?
Soon enough your charts will be looking like this: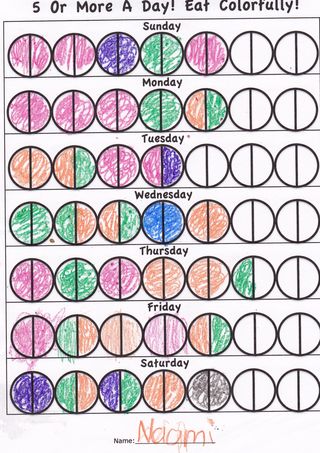 What are some creative, healthy ways you increase fruit and veggie consumption in your house?