Getting new fabric in the mail is always exciting. And even more exciting when a friend sends you fabric they designed! I was so impressed when I got Dana's newest fabric in the mail. Boardwalk Delight is seriously delightful. I asked her for some quilting cottons to make a quilt to go on my daughter's bed. But then we got an amazing new YogaBed and it was queen sized so I didn't have quite enough fabric to make the quilt I had intended. (You can see the headboard I made here.) But I'm still working on something fun. In the meantime, I made some DIY quilted pillows to go on the bed. Quilted ice cream pillows. They're really darling.
Each of the pillows have a quilted front. The ice cream pillow is quilted on both sides. The other pillows have an envelope back so the covers can be easily washed.
You can see the inside of the pillowcase is fully finished. I chose to serge the edges because the layers are a bit thick with the cotton batting, front of the quilting, back of the quilting and the back of the pillow. But a french seam or other finish would work as well.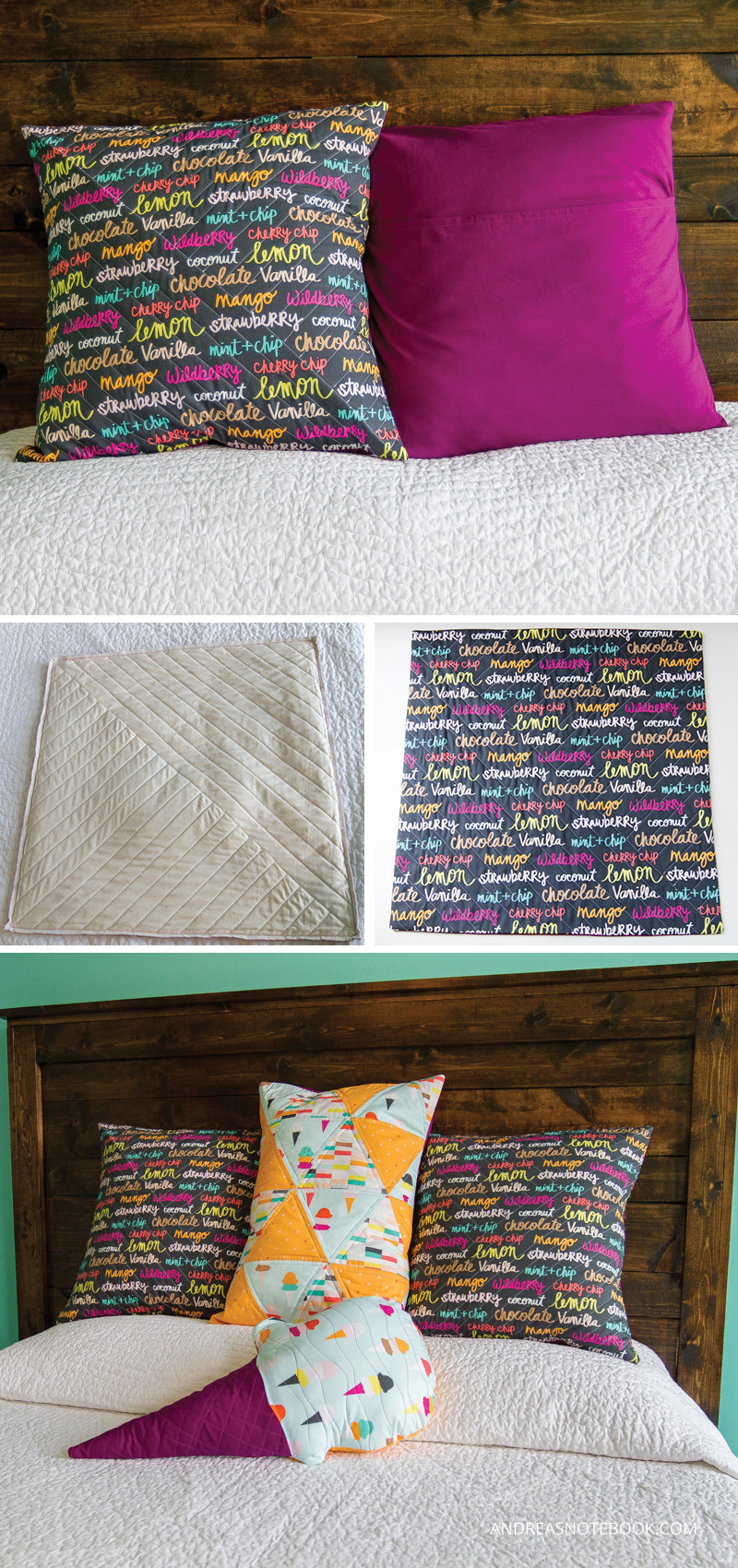 The ice cream pillow was pretty free form. It's one of a kind, that's for sure. 🙂
The triangle pillow was easy to make as well. My corners aren't perfect, but I'm not a quilter so that would take a bit more practice and patience. Thankfully, it's just a pillow!
I should be able to finish my mini bed quilt and a duvet cover I have planned sometime before winter. Just after I finish the other 25 things on my to-do list!
If you're loving these fabrics as much as I do, head over to Made Everyday to get more details about Dana's fabric and where to buy some for yourself. Did I mention there are also knits?? Yes!
And don't miss the rest of Dana's fabric tour. I've seen some really darling things made from these fabrics!