Nothing beats a beautiful bouquet of flowers. They bring texture, color and lively energy into a room like nobody's business. Problem is, real flowers need maintenance and cost money and then, of course, they eventually die. Fake flowers aren't the answer either because in trying to mimic real flowers they look, well, super fake. So, instead of going with fake flowers that are trying to look like real flowers or real flowers that get droopy in three days make these! This DIY walks through how to make eco-friendly fabric flowers. The best of both worlds and guaranteed to make you happy.

Made with fabric scraps and sticks (really!) they bring the organic look of nature with a pop of your fantastic fabric. It's the perfect marriage of fake and real flowers in an earth friendly package.
Supplies
Fabric Scraps
Downloadable template, available here
Wax Paper
Freezer Paper
Mod Podge Stiffy (or another Fabric Stiffener)
Foam PaintBrush
Exacto Knife
White Paint
Sticks, the more knobs and bends the better
Iron
Instructions:
+ Begin by dipping the protruding ends of your stick into white paint and let it thoroughly dry.
+ Make the fabric flowers:
1. Download the available template and print it out onto freezer paper if you have freezer paper sheets that fit into your printer. If you don't, simply trace the template onto the regular freezer paper you have. Cut out the templates and iron them, shiny side down, onto your fabric scraps. Cut out the fabric around the template. Once you have cut out the shapes, you can peel off the freezer paper and re-use it. It should continue to adhere to the fabric securely for several uses.
2. Lay down a piece of wax paper to work on and prepare the Mod Podge fabric stiffener and your foam brush.
3. Thoroughly apply Mod Podge to two fabric flower petals, being certain to soak the fabric. Overlap the petals on top of each other once they are doused.
4. Use an Exacto knife to score an X in the center of the petal pieces. Don't cut too large or deep of an X and be sure not to cut too far such that you cut off a petal. It is a little tricky to make this cut because the fabric is wet but cut carefully and you should be fine.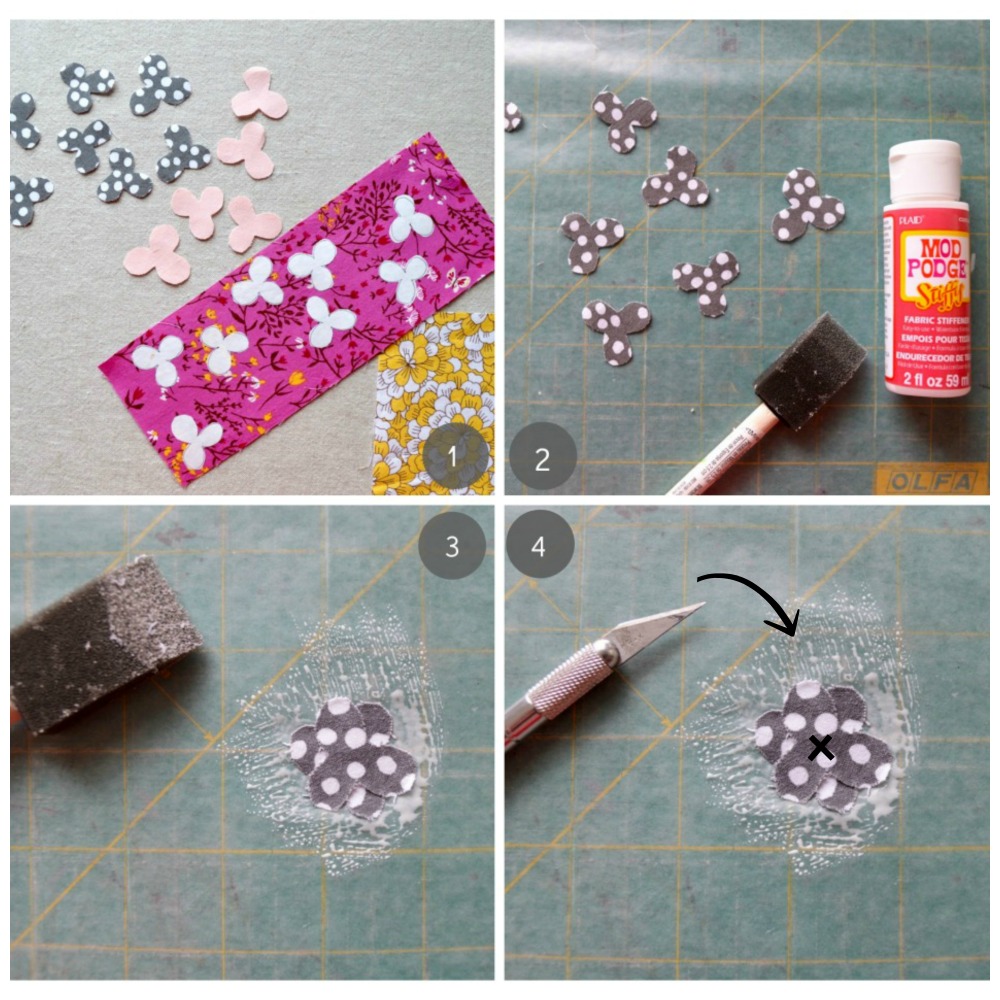 + Once the petals are prepared, force the wet petal pieces over the white-tipped ends of your sticks. Make sure they don't slip on too loosely. If they do, start over with new petal pieces and cut a tighter X next time. Once all your petals are on, set them in a vase so the fabric stiffens in a natural and haphazard manner. The fabric stiffener also hold the petals in place, acting as a kind of glue (it doesn't work as well, however, if the petals aren't put in place tightly).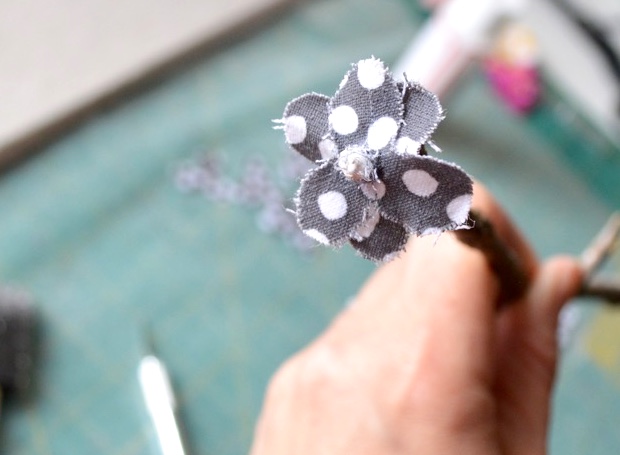 Once you have made a bunch in your favorite fabric combinations, you can scatter them around the house! It's like a year-round cherry blossom season!