What does it really take to make a living selling your handmade designs? We asked tote designer Lindsay Reilly of Lindsay Tia Bowtique the key to making it as a handbag designer. The answer is simple. Know you can do it and never, ever let anyone tell you no!
Who: Lindsay Reilly
What: Owner/Designer
Where: Lindsay Tia
What does your schedule look like on a normal day?

7:30am: Wake up and get ready for the day.
8:00am: I set up my first instagram post.
9:00am: I eat breakfast.
9:30am: I hit the road either to meetings for new stores or to the office/ Bowtique.
10:30am: I'm answering emails and making an agenda for the day.
12:00pm: I break for lunch.
1:30pm: I set up my second instagram post.
3:00pm: I finish what needs to be done for the day and answer more emails.
5:00pm: I head home or to the gym.
What made you take the leap into becoming a full-time bag designer?
I have been sewing since I was six years old. I had a passion for seeing how things work and putting puzzles together. At fourteen, I began sewing and selling my totes and accessories at my friend's mom's salon.
I never worked for anyone, or interned for anyone. I realized I was more of a hands-on type of learner. At twenty-one, I did my first manufacture run of one hundred and five tote bags, knowing if I had more totes, I could sell them. I graduated from college at twenty-two and realized that moving to another state for a fashion job wasn't for me. Two months after graduating, I decided to go all in and open my "Bowtique" office. At twenty-three after knocking on doors, building a following, and growing my business, I did my first full scale manufacture run of four hundred units of beach bags. From there, I grew my business to inspire and make a change through my totes.
Today, I am still on my mission to change the world one bag at time!
Was there a job you had before this that you KNEW was a terrible fit for you?
I have never worked for anyone else besides a family member's small shop growing up. I figured if I couldn't listen to my parents I wasn't going to listen to a boss! I always dreamed bigger and wanted to reach for a bigger goal on my own terms.
What makes your job awesome?
Just knowing that I'm following my life-long dream at twenty-two. Learning everything on the way has made me the person I am today. I wake up every morning with a purpose and a passion knowing I can make a small, but positive difference to my customers!
What has been the biggest surprise in doing this for a living?
What surprises me the most is how strong I actually am to follow my dream. Owning a business isn't just a job/career but a lifestyle that no one can prepare you for…its 24/7. I think what fuels me is my passion. Being a young woman in the business industry definitely has its disadvantages but it makes me want to show everyone, "Hey, I can do this and you won't stop me!"
What special training have you had that has helped? Is there any training you really wish you had?
Learning how to sew at such a young age is a skill that definitely pushed my passion. I attended Lasell College and London College of Fashion to pursue my Fashion Merchandising degree to learn more about the business of the fashion industry. Being a designer in fashion is about being real, learning hands on what works and what doesn't.
Do you have a role model?
Yes! I have an amazing group of mentors that are the reason why I will never give up. My business was created and inspired by people who took their time and help me build my dream for nothing in return. In honor of them I have named each bag style after someone who has helped me get to where I am. These people include my parents, my bookkeeper Janet, to my mentors Stacey, Christi, Holly and Sue.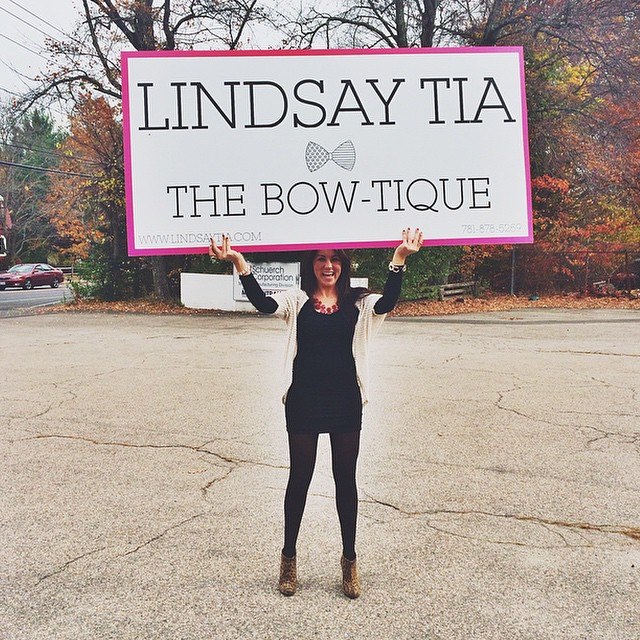 What drives you to keep going every day?
Every day I wake up and look at the stories my customers have shared with me. It's not about the money or fame of being a designer - but how I make people feel through my totes. It's a story that leaves me motivated and speechless.
What is the one piece of advice you want to share with anyone thinking about going into the same line of work or business?
Don't let anyone tell you no, never give up on yourself, and know that if you have the passion for your dream you have it all! Enjoy the journey, the mountains, obstacles, and the memories…In the end it will be worth every smile, every tear, and every minute you spent building your dream.
You can find more about Lindsay Reilly and her bag line Lindsay Tia here:
@LindsayTia –Instagram & Twitter