I love a clean white kitchen. There is just something about the brightness that makes a space feel so much less stress inducing to me. These classic white kitchen makeovers have before and after photos to show you what a difference a little change can make. Tell me what you think!
Classic white kitchen makeover #1
This "before" kitchen is not bad. It's actually a pretty nice kitchen. But the "after" is just bright and stunning and has some elements I really love.
Pros:
Extending the cabinets all the way to the ceiling. This makes a huge impact.
White paint. Clearly I love that.
Glass backsplash tile. I had tile nearly exactly like that in one house. I miss it!
Industrial chic oven.
Getting rid of the corner cabinet and instead having one open cabinet on the end for decorative pieces.
Molding around the window.
Light counters. I'm a fan of dark as well but this just looks lovely.
De-cluttered counter space. I think less appliances on the counter is better. That's what those cabinets are for! Store them all!
Cons:
This is a pricy makeover. Other than that I love it!
Check out Deep Thoughts by Cynthia for more photos and details.
Classic white kitchen makeover #2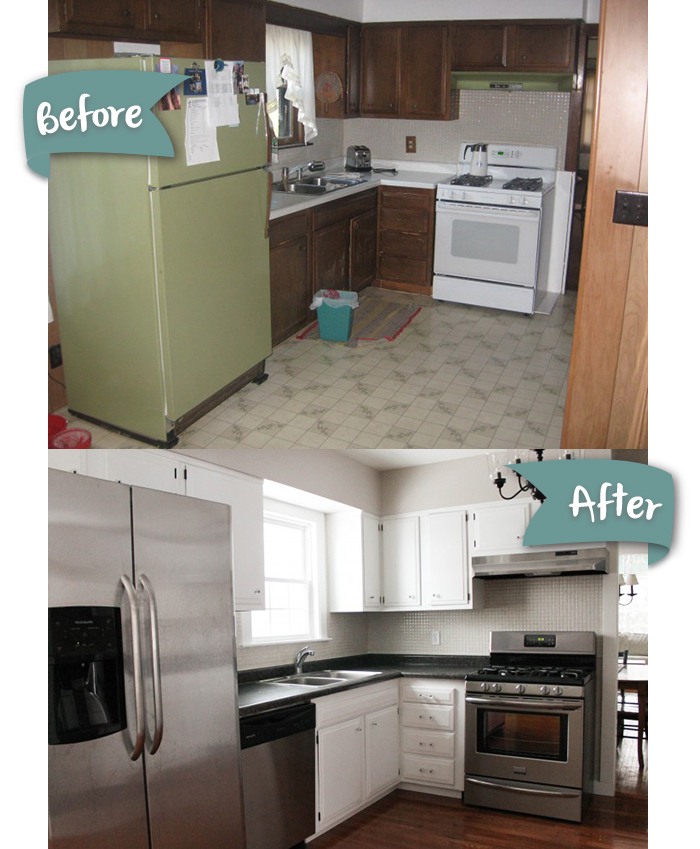 These homeowners spent a few years slowly making over their dated kitchen. This complete DIY kitchen remodel is exactly in line with what many people are actually capable of affording.
Pros:
This kitchen is 100% brighter than before.
Matching appliances. I don't care what color they are as long as they match!
Love the contrast of the dark floors and the light cabinets. The new flooring makes a huge difference.
Love the painted window trim.
I much prefer the white cabinets to the dark.
They kept that great backsplash!
BUDGET. This was done over several years. No breaking the bank for a kitchen.
Cons:
The cabinets aren't a modern style and the paint is extra shiny but it's hard to complain about that when you see the dramatic difference the paint makes!
See the details at White House Black Shutters.
Classic white kitchen makeover #3
This kitchen remodel kept the cabinets and replaced just about everything else!
Pros:
The space is so bright and cheerful now.
New hardwood floors are a great contrast to the bright white walls and cabinets.
Painted cabinets are not overly shiny.
New sink! A nice, undercounter sink and stainless steel faucet are a great addition.
No more multi color stripes on the backsplash.
Great new light fixture.
Cons:
I love the look of marble counters but they stain so easily I just couldn't do them with my family.
See all the details on Coordinately Yours by Julie Banner.
Classic white kitchen makeover #4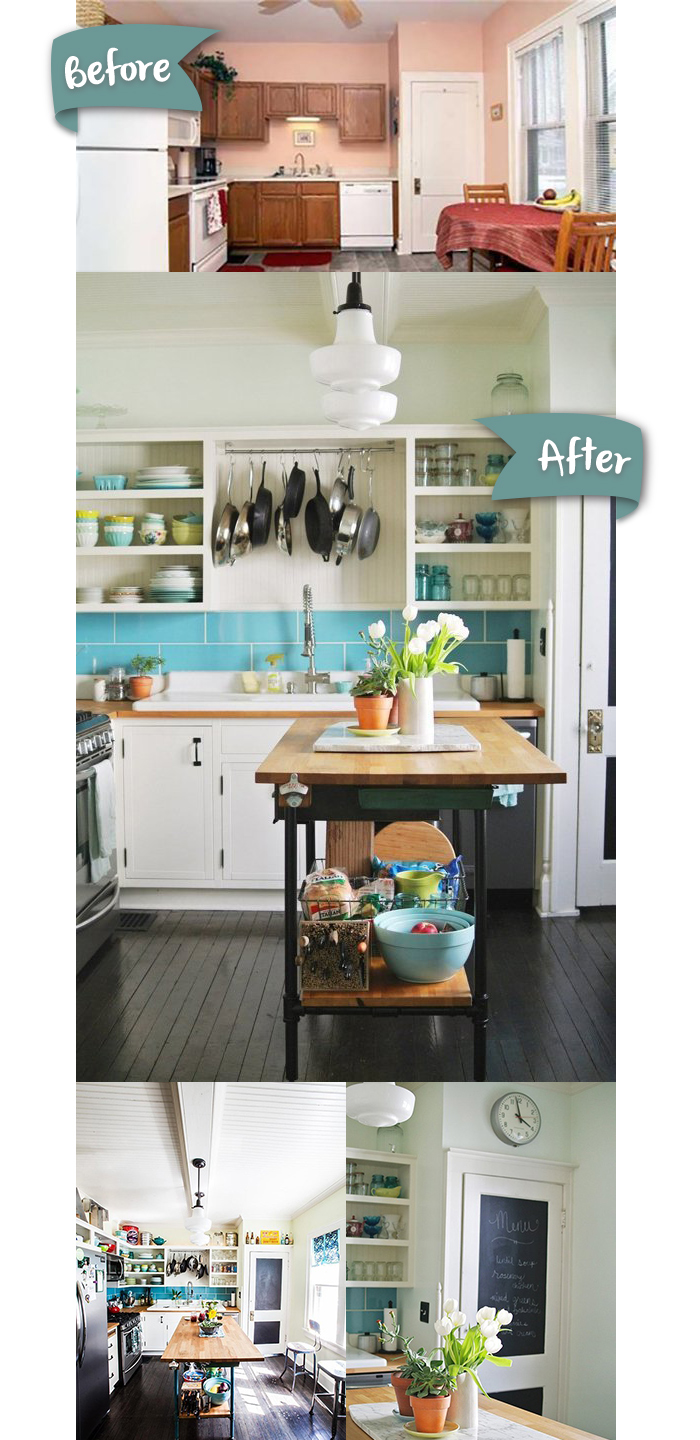 It's hard not to make an improvement on this kitchen. It was just boring before. Pinkish walls, drab cabinets, a large open area going unused.
Pros:
Gorgeous blue backsplash brings in color!
Painted white cabinet bases with new doors on the base and doors removed on the upper. The open cabinets show off cute dishes that match the backsplash.
A simple kitchen island.
New floors that provide contrast.
Lovely new lighting.
Storage added above sink for a place to hang pans.
New wood paneled ceiling and a beam add character to the high ceilings.
Cons:
The potential for mess and clutter here is great. Lots of open cabinets and space on top of the cabinets being used. My family could make that crazy disorganized in about 3 days.
Get more details and photos at The Kitchn.
What do you think? What are your favorite changes made? What do you love about the old kitchens?
How to Bohemian Chic Your Home in 10 Steps
15 Amazing DIY Backyard Playhouses
25 Modern Kids Bedrooms
14 frugal kitchen organizing ideas
Kitchen Printables for the Fridge
25 Things to Sew for the Kitchen