Gone are the days of carrying around a DSLR or even a point and shoot camera. We almost all use our phone for photos these days. I've found 6 videos that I think will really help you take better iPhone photos.
7 Best Videos to Help you Take Better iPhone Photos
These videos all cover slightly different tips. You'll find a video that will teach you how to really set up your photographs. How to get away from just standing and taking a photo of what you see with your eyes.
Then you'll watch a video that can help with your landscape photos for when you're out in nature.
Next, learn how and why to adjusting the settings on your camera phone. What do all the settings mean and when would you want to use them.
Then there are videos to help you take better photos of yourself, your kids and your food. With these videos combined you'll have much better photos to share on social media or your blog!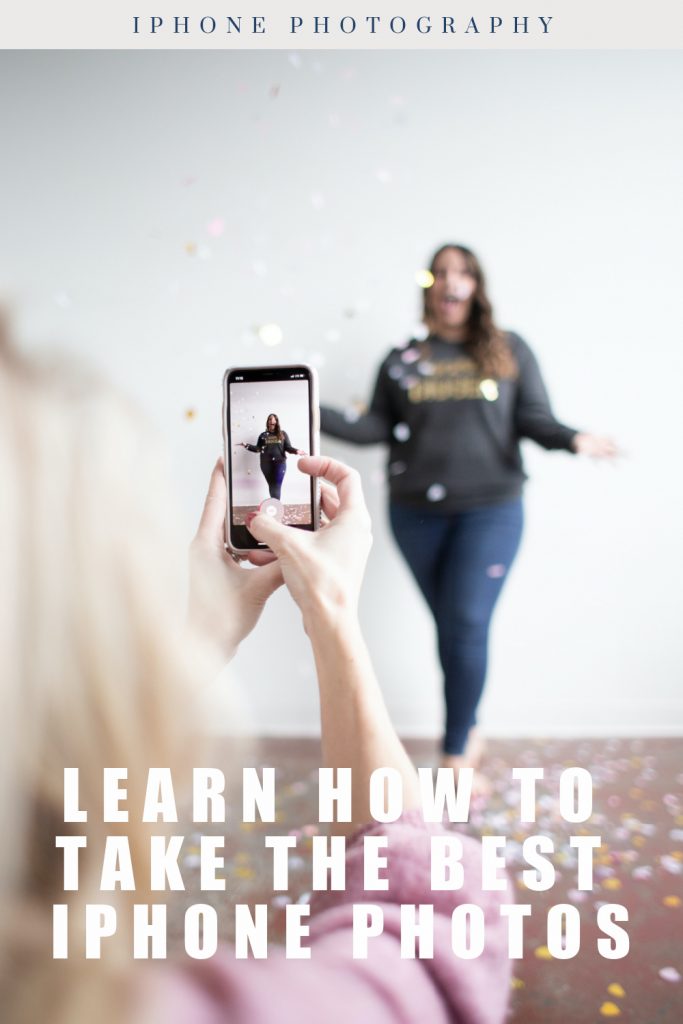 ---
#1: Little Known Tricks For Taking Amazing Photos
This is a must watch video. Watch the whole thing. His tips are easy to follow and I think you'll really see an improvement with your photography if you use them.
Take photos from a unique angle. I love the examples he gives of this. I think the is is one of the most important lessons on phone photography. Finding a unique point of view is important.
Set the focus yourself. Your phone will automatically focus itself but that isn't always ideal. Look at the way he shoots this shot through the bicycle spokes!
Set your own exposure on your iphone photos. Did you know you can do this? It's easy to way to fix a photo. You might know how to tap the screen but did you know about swiping up and down??
Lock focus and exposure. This is super important. You don't want the iPhone to immediate reset to default!
Take silhouette photos. These are easy to capture but learn how to get the light correct. Don't forget about how all the previous tips effect this type of photo!
Use burst mode. We saw this mentioned in the first video but this will give you even more tips on using it.
Pay attention to details. Look at the things most people don't even notice. I love his leaf and bridge examples.
Watch the video! It's definitely worth it!
---
#2: Tips To Make Your Phone Photos Better
There are lots of good tips in this video! It's a good one for general photography. Especially landscapes and people. It packs a lot of little tidbits of information into a short video.
Always keep light in mind.
Use the rule of thirds.
Look for leading lines guiding your eyes to the interest point.
Balance your photograph.
Learn how to capture action.
Learn how to get the best angle.
Learn how to get a long exposure.
Use Adobe Lightroom Mobile to edit.
Watch the video to learn more about these rules!
---
#3: Selfie Photography Tips
These tips come from the perspective of a beauty influencer. This will help with your selfies!
Some of her best tips that aren't included in previous videos:
Take photos in the shade, not direct light.
Add movement for interest.
Take note of your background.
Use LIVE mode. Watch her teach how to use this!
Don't look directly at the camera.
Straighten and crop photo before putting on Instagram.
Turn on HDR. Learn what this is!
Turn off your flash.
Use your volume or headphone button.
Watch to see all these tips!
---
#4: The Correct iPhone Settings For Your Best Photos
This is a very basic video that will show you all the settings you can change for your photos on the iPhone. Chances are you already know about 90% of these. If you don't know what one of these are or why/how to change it then please watch this video. He does an excellent job of explaining.
Did you know you need to go into your iPhone Settings app on your phone to improve your photos??
Choose between high efficiency or compatible (JPG). Choose most compatible! These will have more detail and better quality.
Turn on your grid! This is really important for composing shots.
Turn off your auto HDR
Then change settings in your camera app. Learn about the different icons:
Filter menu (he doesn't recommend)
Self timer
Live photo (leave on when there is movement)
HDR (select auto)
Flash (keep flash off)
Front facing button (back camera is substantially better than selfie camera)
Zoom button
Shooting modes
---
#5: Tips For Better Photos Of Your Kids
Ever wonder why other people's photos of their kids look so good? This video will help you figure out how to take your phone photography up a level. Here are some of their great tips.
Find good light: Think window light. What the video to see where to put the light and how to work with shadows.
Think about the background. She likes to rearrange her furniture a big to get a clean background.
Shoot straight down.
Look for great textures. Avoid shiny or wrinkly things.
Avoid shooting up at the face. Try to get on their level.
Avoid logo shirts so the attention is on the face, not the shirt.
Take photos outside.
Get in the photo.
What the video for all the great tips! It's quick and you'll love how she turns what would be ordinary photos into really beautiful captures. I especially love the bicycle photos.
---
#6: How To Get The Right Blur On The Background Of Your Photos
Phone cameras have come SO far in the past decade. You can get a beautiful bokeh (blur) on your photos so only the subject is clear and crisp. This video will show you how exactly to get that with an iPhone.
But you don't just need to know how to use the Portrait Mode. You need to learn about how to set up your shot, your background, the lighting and so much more.
---
#7 Food Photography Tips
Being able to take photos of your food that look appetizing instead of dark and gross you'll love these tips.
Move your surface near the window. See how he diffuses the light.
He uses the Lightroom app (it was also recommended in the video above!) He'll show you how to get really technical with this app.
He goes over photo lights in case you can't work with natural light including what type of light to buy, where to place it and how to bounce light.
Then learn how to edit in Lightroom!
---
I hope you enjoyed these videos!