The easiest way to bring the outdoors into a home is, of course, vases of flowers and potted plants. After all, there is nothing more lovely. But when it comes to home decorating I think it's best to remember there are no rules. Especially in the middle of summer when everything outside is blooming and lush...why not bring a bunch of that outside feeling inside in new ways. What better way to freshen up a home than to do the unexpected with what nature has to offer!
1. Sculptural Branches
Take advantage of the wonderful, abstract shape of branches by using them in inventive ways inside your house. Ever bonded with a walking stick while on a hike? This would be a lovely way to commemorate that special walk in the woods.
Source: Kelly Thorn for Brit + Co.
---
2. Flower Wall
Skip the vase altogether and go wild with silk flowers on your wall like Elsie Marley did in her kid's bedroom.
Source : Elsie Marley
---
3. Teacup Succulents
Give a tiny houseplant a place to shine. Inside a teacup a succulent can show off it's crazy curves and angles without competing with it other full-leaved plant friends.
Source: Hema
---
4. Flowering Bush Gatherings
Bring the beauty of a flowering lavender or butterfly bush inside by creating a gathering of cuttings in small glass jars. These were used at a wedding but would be equally stunning on a table inside your house.
Source: Sweet Violet Bride
---
5. Branch Wall Hooks.
A little white paint and stunning pops of unexpected color-blocking turn an ordinary branch into a artistic hook. Another one for the perfectly angular stick picked up out in the woods.
Source: Chelsea Mohrman from Brit + Co.
---
6. Unexpected Plant Cuttings
Not every vase needs flowers. Highlight the quiet beauty of the greenery itself and play up the dramatics with a stunning plant cutting.
Source: Frida Vega Salomonsson
Source: Song Tse
---
7. Hanging Plants
Shelf space can be hard to come by especially in tiny homes and apartments. This DIY leather planter helps to lift the plants into the air meaning you can bring even more into the house!
Source: A Pair and A Spare
---
8. Hanging Terrariums
While you are at it, build an entire plant world with a terrarium and hang that in a sunny spot. It's a completely unexpected way to bring greenery inside.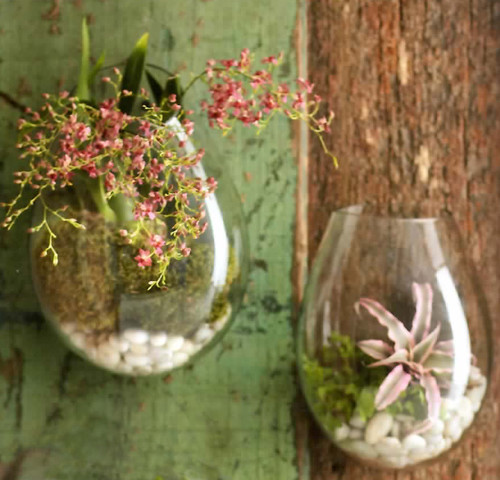 ---
9. Air Plants
These funky little plants grow without soil and have specialized leaves that require fresh air and only a tiny bit of water. They are fantastically easy to care for and that is good news for anyone without a green thumb. It also means you can have fun with them! This great DIY shows how to make tiny air plant pineapples! Now who doesn't need that?!
Source: Small + Friendly
---
10. Indoor Herb Garden
Place a tension rod across a window and plant herbs in hooked plant holders to create a beautiful and super useful indoor herb garden. Fresh cilantro for your salsa!
Source: the Snug
---
11. Clean the Air with Houseplants
Purify the air in your home with some of the houseplants that do it best. Indoor air has been found to be ten times more polluted than outdoor air. Furniture and cleaning products emit chemicals such as formaldehyde and if the air remains stagnant they can linger. Plants such as the peace lily, spider plant, garden mum, the boston fern, dracaena, ficus tree, snake plant, aloe vera, and the bamboo palm all will naturally clean the air and let you breath easy.
Source: Simple Organic Life
---
12. Sleep with your Plants
Ok, not exactly....but, you can sleep better with your plants in the room. In particular, bring a tall snake plant into your bedroom. It converts CO2 into oxygen at night and the increased oxygen will be a boost to your nighttime zzz's.
Source: In From The Garden
---
13. Botanist Art
Press flat any plant cuttings or flowers that catch your eye, once they are dry you can press them between glass for permanent exhibit on your wall and show off your inner botanist.
Source: Femina
---
14. Copper Bud Vase
Using basic items for the hardware store you can make your own wall vase in stunning copper. Show off an elegant garden clipping.
Source: Poppytalk, photos by Chelsea Costa
---
15. Bring the Dinner Table to Life
This metallic-tinted succulent table runner is like nothing your guest will have seen before! And, extra bonus...the succulents can be rooted after dinner for a succulent garden. Learn how to make your own with this DIY.
Source: Swooned Magazine photo by Chelsea Foy
---
16. Chandelier Plant Holder
A great project to reuse an old chandelier! This DIY details each step for upgrading a chandelier. She uses outdoor plants but it could just as easily hang in a sunny window inside with indoor plants.
Source: While They Snooze
---
17. Create a Vertical Garden
Convert an old card catalog or other cabinet with beautiful tiny drawers into a work of plant art. Furniture like this transforms a room!
Source: The Jungalow
---
18. Living Bath Mat
This moss-covered bath mat stays moist due to the steam in a shower and feels great underfoot in the morning. Buy it or DIY it.
Source: Apartment Therapy
---
19. Go with an Artistic Centerpiece
This romantic centerpiece takes the cake! What an inspiring idea to fill a wooden box with moss, succulents and artistry to create a living centerpiece!
Source: 100 Layer Cake
---
20. Plants with Personality.
There is nothing wrong with a regular old potted plant, of course, but why not have fun with it? Bring the outside in and give it something to smile about.
Source: Classic Play, photo by Dave Cooper
---