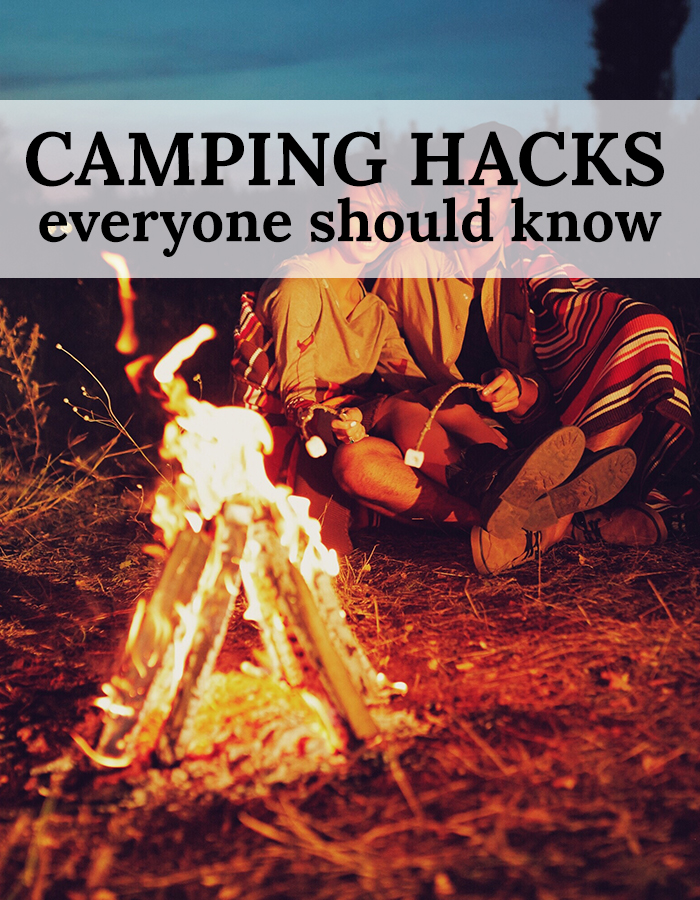 Whether you're roughing it with the kids, or glamping with your girlfriends, going camping takes some serious planning. From what to cook and how to cook it, to keeping your feet dry, we've got you covered with these 18 camping hacks that are sure to help you enjoy the great outdoors in style!
1. DIY Roasting Sticks
These modern roasting sticks by i heart naptime are the perfect length for toasting your marshmallows.

---
2. Tin Can Rocket Stove
This eco-friendly stove by Prepared Housewives is a great alternative to an expensive camping stove (and is sure to impress!).

---
3. Mason Jar Match Holder
Keep your matches handy and dry with this clever holder from The Burlap Bag.

---
4. Outdoor Candle Stakes
Light the way with Subtle Revelry's fancy candlelight hack.

---
5. Use Beeswax to Waterproof Your Shoes
Now you can wear your cute shoes and keep them dry, too, thanks to Brit & Co.

---
6. DIY Tripod Camping Stool
Make your own seating with this DIY stool from Design Sponge–it even has a strap for easy carrying!

---
7. DIY Sleeping Pad
You'll sleep like a princess thanks to The Merry Thought.

---
8. Use an Egg to Make Swedish Coffee
An egg in your coffee, what?? But hey, it's Swedish–aka stylish! Thanks for the tip Best Made Projects!

---
9. Cork Keychain
Morning Creativity shows you how to put that cork stash to good use–and keep your keys afloat, too.

---
10. Campfire Crescent Dogs
Tablespoon shows you how to fancy up your campfire hot dogs (and they taste delish!).

---
11. Campfire French Toast
Need an easy breakfast to feed a crowd? This Lil Piglet's got your back.

---
12. Homemade Natural Bug Spray
Keep mosquitos away and smell great with Remodelaholic's DIY bug spray.

---
13. Make Herb and Spice Newspaper Fire Starters
Garden Betty shares how to bring your own fire starter and make the campground smell heavenly, too.

---
14. Swedish Flame Log
Build a better campfire (with a built-in shelf) with this how-to from Wilderness Arena.

---
15. DIY Painted Walking Sticks
The DIY Dreamer shares this clever idea for pretty-fying your walking sticks.

---
16. Make Your Own Bug Bite Balm
A few mosquitos always survive. Make your own handmade balm with hello natural.

---
17. DIY Bamboo Fishing Rod
Bust out those corks again for this easy handmade fishing rod from Imagine Childhood (just add a fishing hook at the end for your own grown-up version).

---
18. Make Your Own Hammock
And take an afternoon nap or sleep under the stars in a handmade hammock from Camille Styles.