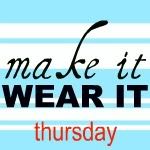 Thank you for making last week such a successful week for Make It Wear It!! So many wonderful links! Here were the top two most clicked on links:
(Felt So Cute) (Sew Fantastic)
Today I am very excited to introduce to you a new pattern designer

Petite Kids Boutique designs PDF patterns for little girls. Adorable dresses and skirts for your holiday sewing!

This dress would make an adorable holiday dress. And check out this back detail!

Or how about this Olivia skirt?
Or this adorable skirt for babies?
Now through November 13th you can get 15% off your pattern purchase using coupon code "TRAINTOCRAZY02″ not valid for custom orders.
Visit Petite Kids Boutique to check out all the other fabulous patterns and get your discount!
Now link up to Make It Wear It!
The rules:
1. Must be wearable.
2. Link back here if you will. Grab a button if you'd like.
3. Visit a few others!